Tingling or numbness in the fingers?

Fingers turned white?
The number of people using Britain's roads is increasing every year, and road traffic accidents (RTAs) are an all too common occurrence. In the majority of accidents, thankfully, no one suffers a personal injury and the only damage done is to the vehicles involved. However, there are times when RTAs can have serious consequences, including severe injuries or even death.
The actual term 'road traffic accident' covers a wide range of incidents, but those which seem to occur on a regular basis include:
Accidents between two cars
A motorcyclist who has collided with another vehicle
A passenger travelling in a car which has been involved in an accident
A driver or passenger injured in an accident caused by a dangerous road, an obstacle or poor driving surface
A pedestrian being hit by a car
A cyclist being hit by a car
Accidents involving heavy goods vehicles or lorries
Injuries to bus and taxi passengers
In order to make a personal injury claim following an accident, you must be able to demonstrate that you suffered an injury as a result of the accident, and that the accident itself was caused by the negligence of a third party.
The scale of road traffic accidents

In recent decades, there has been a push towards an increase in road safety, including technological advances such as airbags. Due to these safety advances, along with both education and television campaigns, the number of people injured in road traffic accidents has steadily decreased year-on-year. In 2004, there were a total of 280,840 deaths and injuries on the roads, but by 2012 this figure had declined to 195,723.
However, one area that bucks the trend is accidents involving cyclists, which have increased since 2004. This increase can be attributed to the fact that the number of people using bicycles to commute to work has seen a surge. We have more information on the subject on our bicycle accidents page.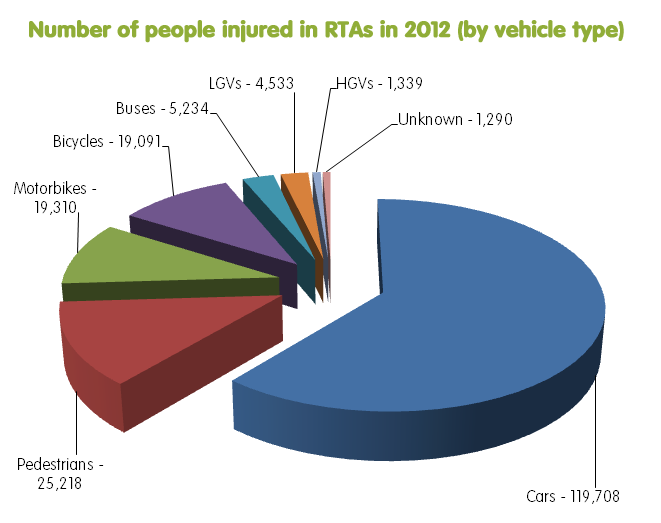 What evidence to gather in the event of an accident
If you are injured in a road traffic accident that was someone elses fault, it is important to gather as much evidence as possible because the driver (or their insurance company) may deny responsibility for the accident when you make a personal injury claim. Try to collect any evidence you have that can help your claim. Below is a list of the kind of evidence which could benefit your traffic accident claim:
The registration number of the other vehicle(s) caught up in the accident.
The name, address and insurance details of anyone involved in the accident.
The name and phone number of any witnesses.
If you have a camera or a smartphone, take as many photos as possible of the crash. If you do not have a camera available, try to sketch down details of the accident.
CCTV footage could be a vital piece of evidence. You can make a written request to the owner of a CCTV camera, and under the Data Protection Act 1998, they must provide you with a copy of the footage within 40 days as long as you provide a specific date and time, a description of your appearance and proof of your identity.
To make sure you get all the compensation you deserve, it is important that your injury solicitor gets copies of any hospital or doctor's records which show what injuries you suffered, the treatment you received and the prognosis for the future. All of these factors will be taken into consideration when compensation is awarded.Another part of the compensation awarded will be based on the financial impact of the injury. If you are forced to take time off work, or if you are unable to return to work, then compensation will be paid to cover loss of earnings. It is also advised that you keep any receipts as the payout will cover all expenses incurred due to the personal injury, such as medical bills and travel costs.
When to report a road traffic accident to police
It is not necessary to report all road traffic accidents to police. However, section 170 of the Road Traffic Act 1988 states that the police should be called, or an accident report made at a police station, when:
Someone suffers a personal injury.
Damage is caused and the perpetrator doesn't stop (hit and run).
Damage is caused, the parties involved stop, but names and addresses are not exchanged.
Therefore, it is import to report any road traffic accident to the police when a personal injury occurs, as this could later form part of the evidence for any injury claim.
RTAs caused by uninsured or untraced drivers
Occasionally, a traffic accident may be caused by the negligence of a driver who is either uninsured, or who flees the scene and is never caught. In situations such as these, some people may incorrectly believe that they are unable to make a claim, but that is not the case.
The Motor Insurers' Bureau (MIB) was established in 1946 to help fund compensation payouts to the injured victims of road traffic accidents when the other party was uninsured or untraced. It is a legal requirement under the Road Traffic Act 1988 for all companies who deal with motor insurance policies to be members of the MIB.
The MIB is funded by a small fee from every motor insurance policy taken out in the UK. Therefore, it is law-abiding citizens who foot the bill, but the organisation is necessary to help compensate people who have no other legal recourse. To read more on the subject, visit our section dealing with uninsured and untraced drivers.
Guide compensation amounts
The Judicial College publishes a book called "Guidelines for the Assessment of General Damages in Personal Injury Cases", in which they offer guide compensation amounts to judges, based on the type of injuries suffered. Some example amounts from the 12th edition of the book are shown in the table below:
| Type of Injury | Guideline Compensation Payout |
| --- | --- |
| Fractured Finger | Up to £3,850 |
| Fractures of the Nose | £1,375 to £18,700 |
| Minor/Uncomplicated Fracture of the Wrist | £2,860 to £5,995 |
| Fracture of Clavicle | £4,180 to £9,900 |
| Fractures of the Forearm | £5,390 to £15,510 |
| Simple Fracture of the Femur | £7,370 to £11,385 |
| Severe Neck Injuries | £36,740 to £119,900 |
| Severe Brain Damage | £227,975 to £326,700 |
| Tetraplegia/Quadriplegia | £262,350 to £326,700 |
It should be noted that these compensation amounts relate only to the personal injuries suffered – any expenses, such as lost earnings of future medical costs will be added on top of the guideline amount.
The Road Traffic Accident Personal Injury Scheme
The Road Traffic Accident Personal Injury Scheme (also known as Claims Portal) came into existence in 2010 as part of government attempts to reduce the time and costs of civil litigation. The scheme originally covered traffic accident claims valued at £10,000 or less, and the target was for cases to be settled within six months. In 2013, the scope of the scheme was widened to include claims valued up to £25,000. If your personal injury claim falls into the reach of the scheme, you should receive a compensation payout faster.
No win no fee & RTA claims
No win no fee claims (also called Conditional Fee Arrangements) allow injured parties to take legal action without having to worry about hefty legal fees. There are no large upfront costs, and if the case is lost, you do not have to pay anything to your injury solicitor.
The vast majority of expert road traffic accident lawyers work on a no win no fee basis, meaning there is little risk to you financially when starting a claim.
Ready to make a claim?
If you've been involved in any kind of RTA, suffered an injury as a result and feel that you weren't to blame then you may be in a position to make a compensation claim. Feel free to call on 0800 234 6438 and discuss the details of your case with an expert legal adviser. They'll give you an honest opinion as to whether or not you are in a position to make a claim.