Tingling or numbness in the fingers?

Fingers turned white?
25% of workplace transport accidents are a result of forklift trucks. A personal injury solicitor can get you the compensation you deserve.
Suffering illness or injury as a result of the work that you do is distressing due to the important part that work plays in all our lives. After all, the first question we usually ask upon meeting someone new is: "What do you do?" That's why the knowledge that you're suffering as a result of your employer's negligence is so distressing – having worked hard for the wages you receive, the very least you can expect is that the environment in which you're working will be kept as safe and pleasant as possible.
The Dangers of Working with Forklifts
In the UK, around ten people are killed annually in forklift accidents and many thousand injured, a figure that is far bigger than the number of workplace accidents caused by cars and HGVs combined. This figure is particularly shocking when you consider that many of these accidents and fatalities could have been prevented by carrying out proper risk assessments and acting on identified hazards.
Forklifts are specialist equipment for construction companies, warehouses, dock work, airports, and other industrial environments. They're beneficial because they enable companies to pick up heavy items and transport them to other areas, but operating a forklift requires a lot of training and skill.
Industrial counterbalance forklift trucks are particularly common, and these machines can weigh up to 4 tons, which is around 3 tons more than a car. While these trucks can handle a lot of weight, they can also become unstable when overloaded or unbalanced, which results in accidents.
As forklift trucks use the rear wheels to steer, anyone who wants to operate one must go through extensive training before doing so. However, in a busy environment with people walking around, even the most professional drivers might lose control of the truck or be unable to manage it if workers overload the cargo.
Accidents could be due to human error, a poorly managed workplace, failure to identify hazards, or an accumulation of these factors.
What Forklift Truck Accidents Are Most Common?
Forklift accidents impact thousands of people each year, and some can be fatal. The Fork Lift Truck Association states that the most significant danger of forklifts in the workplace is when forklifts are used in places where people are walking around.
It is very easy for a forklift driver to accidentally run over a pedestrian when they are carrying a load or can't see the pedestrian. Safety measures should be in place to keep forklifts and pedestrians entirely apart.
The most common accidents involving forklifts are:-
Loads falling off a forklift and crushing someone.
A forklift overturning and crushing somebody.
A forklift pinning somebody between the truck and an object, floor or wall.
The HSE (Health and Safety Executive) have found that the leading causes of forklift accidents in the workplace are poor supervision of the use of these vehicles and a lack of training. Other causes of forklift accidents include obstacles, an uneven floor surface and an inadequate work environment.
In many cases, a business that puts speed at the top of its priority lift is a breeding ground for accidents and forklift drivers or those working in the environment can be at risk.
Are You Eligible to Make a Forklift Accident Claim?
There's a big difference between human error and circumstances that would be out of someone's control, and your eligibility for compensation depends on how the incident occurred. All businesses have to follow health and safety guidelines, covering everything from proper training to creating a safe work environment.
There are plenty of measures that businesses can take to protect their drivers, employees and members of the public from forklift accidents, including:-
Caring for vehicles – Forklifts should be adequately maintained and inspected regularly.
Using the right vehicle for the job – Forklifts come in all shapes and sizes, and the correct type of vehicle should be chosen to match the tasks that it needs to carry out.
Ensuring that the workplace is adequate for a forklift.
Identifying potential risks and hazards.
Acting on risks and hazards that are identified.
Keeping forklifts away from pedestrians.
Employers must align their workplace with the 1974 Health & Safety At Work ect Act which lists how each business must protect its workers from injuries. This act extends to all workers, including part-time, zero hour, freelance and contractors, and following it is part of your employer's legal responsibilities.
If you are injured in a forklift accident, and your employer has not carried out these steps, then you have an excellent chance of winning personal injury compensation because your employer can be seen to be negligent and liable for your accident.
Starting A Claim If You've Suffered a Forklift Injury
After your accident, you should consult a personal injury solicitor for advice as soon as possible. It would help your case if your accident were logged or reported, and you will need to prove that you suffered an actual injury as a result of your accident. Personal injury compensation will not take the pain and trauma away, but it can help pay medical bills and compensate you for lost earnings. In the case of a fatality, a family can seek compensation to help the victim's dependents.
Many personal injury lawyers will work on a no-win, no-fee basis, taking the financial risk of pursuing a claim for personal injury. Your employer will have liability insurance to cover them in the event of a claim, so you should not feel guilty about claiming against them. Remember, if your employer had taken the proper steps to protect you, then you would not be injured.
Your Rights to Compensation
Depending on the nature of your accident, you could be entitled to compensation. Some clients ask if they can make a forklift accident compensation claim when the accident occurred to driver error, and in many cases, the answer is yes. While the government doesn't specifically provide licenses for forklift truck drivers, they make sure that employers adhere to the Provision And Use Of Work Equipment Regulations (PUWER).
These regulations state that a forklift truck driver must be at least 16 years old to operate the equipment, and for dock work, the minimum age is 18. Proper training must also be provided to prevent forklift truck accidents, so you're eligible to make a claim when these regulations aren't followed.
Everything from poorly trained drivers to faulty forklift trucks and an unsafe work environment can contribute to your accident, so many people are able to claim compensation.
Contributory Negligence Claims
If you believe you hold some blame for the accident, you still might be able to make an injury claim, which is known as contributory negligence. These claims can occur if you are the forklift truck driver but feel your employer didn't take the necessary steps to protect you and your co-workers.
Both you and your employer will accept a blame ratio, which could be 50/50, 30/70 or 10/90. You'll receive a percentage of the awarded amount if you win the claim. For example, if you're deemed 20% responsible and the awarded amount is £10,000, you'll get £8000 before the deduction of legal fees.
Am I Eligible?
If you're not sure whether you're eligible for compensation, please don't hesitate to contact us. Our team of specialists can answer any questions you have about claiming compensation and put you in touch with solicitors that can help you.
Each case is different, but there are three critical factors for eligibility.
Did the accident occur in the last three years?
Were you injured?
Was someone else at fault?
Why Claim Compensation?
When you have an accident at work, it can cause physical and mental scars, but many people worry about making a claim. The thought of upsetting their employer or colleagues often puts people off, but work accident claims are about a lot more than getting a boost to your finances.
By taking the step to make a legal claim, you might make a difference to your industry and workplace.
Claims Spark Health and Safety Discussions
If your employer receives an injury claim, it's only natural that they'll look at the work environment training and reflect upon everything that went wrong. Once these discussions are open, your employer will make changes and ensure this type of accident doesn't happen again.
All employees should have their health and safety rights met, and accident compensation claims will highlight any issues that management teams and company owners hadn't noticed.
Implementing Adequate Training & Safe Equipment
Inadequate training is one of the most significant causes of accidents. Paying out money for your claim means most employers will pay special attention to making sure their rider operated lift trucks injury claims are well maintained.
Poor maintenance means that an accident might be out of the driver's control. Still, in cases of poorly trained operators, employers might implement stricter training and provide more personal protective equipment for their workforce.
It Helps You Financially
While some accidents can be relatively minor, such as broken bones, you could have some severe injuries, and personal injury claims might be the best way to keep your head above water. Common injuries that might impact your ability to work include a serious soft tissue injury, crush injuries, head trauma and paralysis.
If you're unable to go back to work and have to rely on benefits, you can receive a lump sum or interim payments that will help you remain financially stable.
How Much Compensation Will I Get?
When you start a personal injury claim, many factors define how much compensation you receive. In the UK, forklift accidents are one of the most common things people claim for, so a claims management company will be able to advise you on how much compensation you might receive.
Most people prefer to use a no win, no fee personal injury solicitor because their case won't go forward if the legal professional doesn't believe the claims process will be successful.
Other factors to consider are the nature of the forklift truck accident, how liable your employer is, and your injuries. For example, an accident involving hospitalisation, paralysis or any other injuries that impact your ability to work might be eligible for the maximum compensation.
Serious injuries such as broken bones or anything that might require time off work will result in financial losses, so you might be able to
When it comes to court claims, there's no guarantee on how much money you'll receive, but if your employer breached work equipment regulations and you sustained a serious injury, you have an excellent chance of receiving some compensation.
Would You Like More Information On Forklift Accident Claims?
If you'd like to know if you're eligible for compensation, please don't hesitate to get in touch with us. We partner with The National Accident Helpline, and can put you through to the right people so you get the compensation you deserve.
In our machinery and technology-dominated world, accidents happen – but that doesn't mean you need to suffer in silence. Contact us today and we'll make sure you get the support you deserve.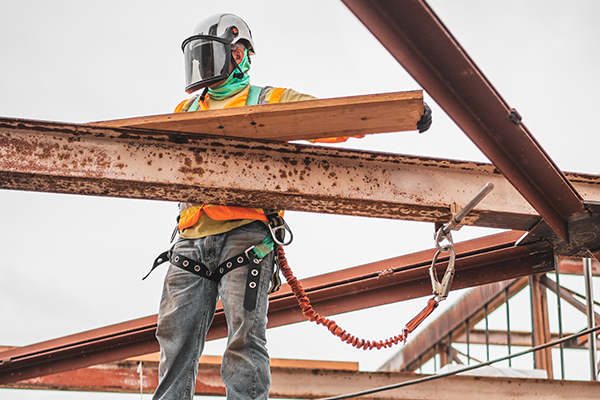 What is a no win no fee claim?
No win no fee is popular because a solicitor won't receive any money unless they win your claim. This is also known as the solicitor's success fee, which means that an injured person won't have to pay anything to their legal team unless they receive compensation.
How long does the work claims process take?
It entirely depends on your sustained injuries and the nature of the forklift truck accident. Personal injury solicitors will put forward your case, and while some employers are willing to negotiate, others might decide to go to court.
Are forklift accident claims usually successful?
Forklift accidents are among the most common workplace transport accidents, so many solicitors have a lot of experience with them. Each case depends on individual circumstances, but most legal teams won't take on your case unless they believe they'll win.