Make a No Win No Fee claim with NoWinNoFee.com
Get a Free Call Back From Our Experts! Fill Out the Form Now for Quick Assistance.
A major responsibility of all employers is to keep their employees safe. Sadly, there are still thousands of injuries and accidents that happen in the workplace each year, and, though many are only minor, some result in significant injury or even death.
Employers are responsible for keeping equipment in a safe operating condition, including maintaining and inspecting equipment regularly for damage or wear, but even the best equipment cannot keep you safe if you were not adequately trained in its use.
If your employer doesn't provide adequate training in the workplace and you're involved in an accident, you have the right to claim compensation.
A personal injury claim can alleviate your financial worries and give you the support you need to move through your injuries. If you'd like to know how the compensation process works, please don't hesitate to get in touch with us. We can also refer you to a no win no fee legal service.
The Law Regarding Workplace Training
With so many acts related to health and safety training, there's no excuse for an employer to fail to implement comprehensive training in the workplace.
In 1974, the UK Health and Safety Act came into place. It sets out a range of guidelines for employers to keep their workforce safe. The act includes guidance on providing proper training, making personal protective equipment available and offering workers instruction on how to perform their duties safely.
The Management of Health & Safety at Work Regulations- 1999
In 1999, the government expanded on the original health and safety legislation by introducing updated regulations requiring that employers perform regular risk assessments and offer continuing training for all employees.
These acts cover first aid training, working with dangerous machinery or chemicals, protecting others in the workplace and guidance on asbestos.
If your employer fails to implement these requirements, they're avoiding their legal obligation to you, which gives you the right to file an inadequate training injury claim.
Are Injuries From Poor Health and Safety Training Common?
In the 2020/2021 work year, 142 people were killed at work, and 162,000 had some musculoskeletal disorder (HSE). These statistics show that the workplace can be dangerous, and inadequate training is one of the leading culprits for accidents and injuries.
Examples of Inadequate Training Injuries
Some examples of injury caused by inadequate training at work are:
Falls from height through the improper use of high access equipment or ladders
Falls through a roof because the equipment was used incorrectly
Electrical shock or burns from using high or low voltage equipment in a way that it was not designed for
Serious injury from industrial machinery such as drills and saws where a safe, proper procedure was not explained
Back damage caused by improper use of lifting equipment or the complete lack of this equipment
Crushing injury caused in warehouses where proper stacking and lifting procedures were not in place
Repetitive strain injuries caused because a sensible pattern of breaks was not introduced
Management sanctioned "corner-cutting" leading to injury.
You may not be aware that it is the employer's responsibility to ensure that its employees are assessed for their suitability for each task and to provide both equipment and training to ensure that all work can be done safely.
It is also the employer's responsibility to ensure that additional training is provided to ensure that procedures are safely followed. These things are crucial when considering vulnerable employees such as young people, pregnant women or the newly employed.
Which Industries Are Most Impacted By Poor Training?
While all industries have some risk factors, some are particularly dangerous and require more attention.
Electricians: Potential dangers due to working with electricity. Shocks are common in this industry.
Construction: Working with building materials can cause injuries, but falling from scaffolding is also common.
Painters – Back injuries are common, and painters can inhale toxic fumes.
Factory Workers: Injuries result from improper use of machinery and poorly maintained equipment.
Laboratory Technicians: Working with gasses and toxic chemicals can be fatal if people don't have the right PPE.
Waste Disposal Professionals: Picking up and moving heavy objects can cause back injuries. Also, there's a risk of workers handling toxic chemicals and biohazards.
Dock Workers: Injuries can occur due to lifting heavy items.
Kitchen Staff: High traffic areas can cause accidents, especially when working with knives and hot cooking equipment.
Care Workers: Moving people around and working with some that might be considered dangerous can cause injuries – especially if workers aren't given manual handling training.
Are You Eligible To Make a Personal Injury Claim?
Personal injury claims due to inadequate training are common, but you have to meet specific criteria to be eligible.
Did your employer offer adequate training?
To be successful with your inadequate training injury claim, you need to be able to prove that your workplace injuries took place due to a lack of – or poor – training. This could be a one-hour session covering the basics of your role, but nothing else or inadequate support for your work orientation.
If your employer can prove that they offered the right amount of training in the workplace, then you won't be eligible for compensation.
Are you injured as a result?
If you don't receive appropriate training for your job role and are injured at work, you'll be eligible to claim compensation. The injury could be a broken bone, muscular damage, or something more severe.
Are You Willing to go Through the Personal Injury Claims Process?
The first thing to remember is that it is not your fault if you have an accident because of inadequate training at work. The responsibility lies with your employer to ensure that you know how to work safely and use equipment properly.
The second thing to remember is that starting a claim for compensation will not affect your future employment. Many people find it uncomfortable to claim against their employer, but accident claims are common these days, and you would only win a case if you were justified in claiming in the first place. Your employer will also have insurance in place to protect themselves from the financial consequences of claims brought against them.
It is essential that you contact an injury solicitor as quickly as possible after the event. Accident compensation is easier to get if your personal injury lawyer can gather the relevant information quickly. Your claim will be dealt with professionally, and because a third party is involved, much of the embarrassment caused by claiming can be removed. For most claims about inadequate training at work, you will be able to use a "no win, no fee" method, which ensures that you will never be out of pocket for your expenses.
Don't forget that an accident at work is not your fault. Your employer has a moral and legal requirement to keep you safe. Your accident may have dramatically affected your health or quality of life, and you are entitled to compensation.
Your future will be more secure by claiming for the money you are owed. You may be able to use the money for medical expenses, re-training to get you back to work, and many other essential items that you will need to continue with your life.
Inadequate Training Compensation: How the Claims Process Works
When you want to initiate a personal injury claim, the first step is proving that the injury was caused by inadequate training at work. Once you can do this, you'll be able to find a personal injury solicitor to represent you.
Assessing your claim
When you first speak to a claims advice company, we'll ask you about the nature of your injury, how long the recovery time is and whether you feel your employer was negligent. We'll also discuss any financial losses from time off work or not going back to work due to the extent of your injury.
If we feel your claim is valid, we'll contact a personal injury solicitor, and they'll take on the case.
Gathering evidence
Your solicitor will work to gather evidence on your behalf, which could include getting medical reports asking a GP or specialist consultant about how your injury will impact your life and ability to work.
You'll also need evidence to show the injury resulted from insufficient training, which could include a lack of training manuals or witnesses that can corroborate your account of the events.
Putting your case forward
Once your solicitor has all of the necessary information, they'll put your case forward to your employer and their solicitor. In some cases, the employer will admit full responsibility, and you can settle out of court.
However, if your employer feels that they weren't negligent, the case might go to court, and the outcome will depend on who is successful.
The Benefits of No Win No Fee Claims
Many solicitors work on a no win, no fee basis, which is beneficial if you want to file a compensation claim. When you work on a no win no fee agreement, it means your solicitor won't be paid unless they win the case.
Doing this means there's no financial risk to you, and your solicitor will only receive a percentage of your financial compensation.
Most solicitors won't take a case unless they believe you can win your no win no fee claim, so it's also an excellent way to gauge whether your compensation case will be successful.
Need Some Advice? Please Feel Free to Contact Us Today.
If you'd like to learn more about how inadequate training claims work, please feel free to contact our friendly team. We'd like to know about your case and advise you on how the compensation process works.
We also partner with The National Accident Helpline, and can refer you to a personal injury solicitor if you'd like to make a claim.
There's no excuse for poor training in the workplace, so let us help you get back on your feet by winning you the compensation you deserve.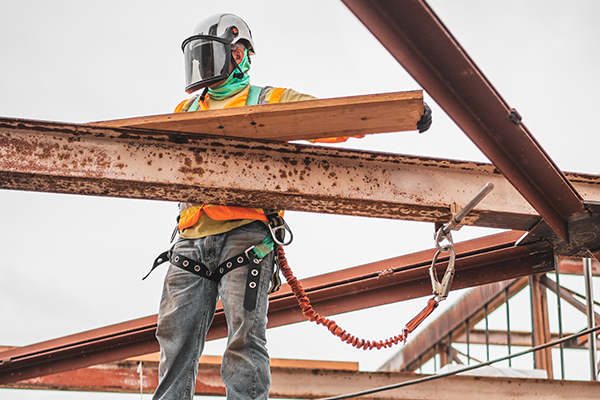 What's the maximum compensation I'll receive?
Each claim is different, and it depends on the extent of your injuries. We can't tell you exactly how much compensation you'll receive, but we do have a compensation calculator to give you a general idea.
Will I have to leave my job if I file an inadequate training claim?
No, your employer will have insurance and won't be out of pocket, so you don't need to feel bad. Remember that personal injury claims can benefit your employer because they can highlight training issues that are always fixable.
A personal injury claims calculator said I'll receive a certain amount of money. Is this guaranteed?
Personal claims calculators are great if you want to see whether you might be eligible for compensation, and they can give you a ballpark figure. However, they don't have all the information, such as how your employer responds to the claim and whether it goes to court, so they can't accurately tell you how much compensation you'll receive.